حبيت اليوم أطرح لكم أبرز المواصفات ، طبعا السيارة مواصفاتها كثيرة جدا و يصعب حصرها ، لذلك نكتفي بما تيسّر
و نبدأ :
THE NEW LEXUS LS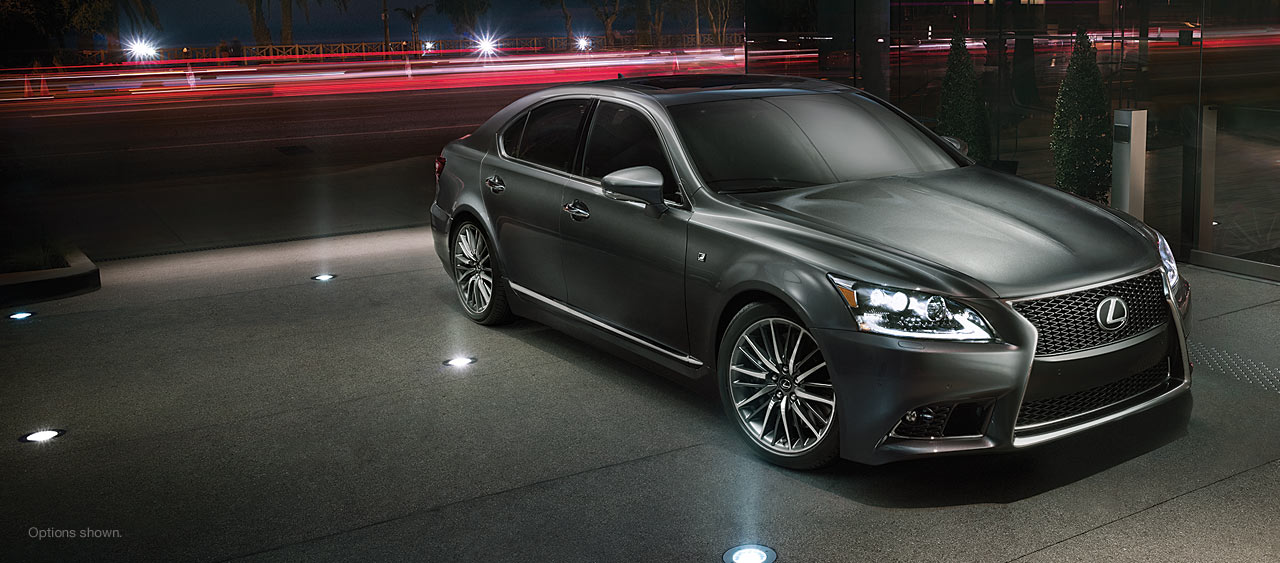 Generations of the LS have inspired an entire industry through visionary innovation, craftsmanship and design. And for 2013, the most technologically advanced Lexus ever has a new face and an all-new F SPORT model.
___________________
PERFORMANCE
THE ALL-NEW F SPORT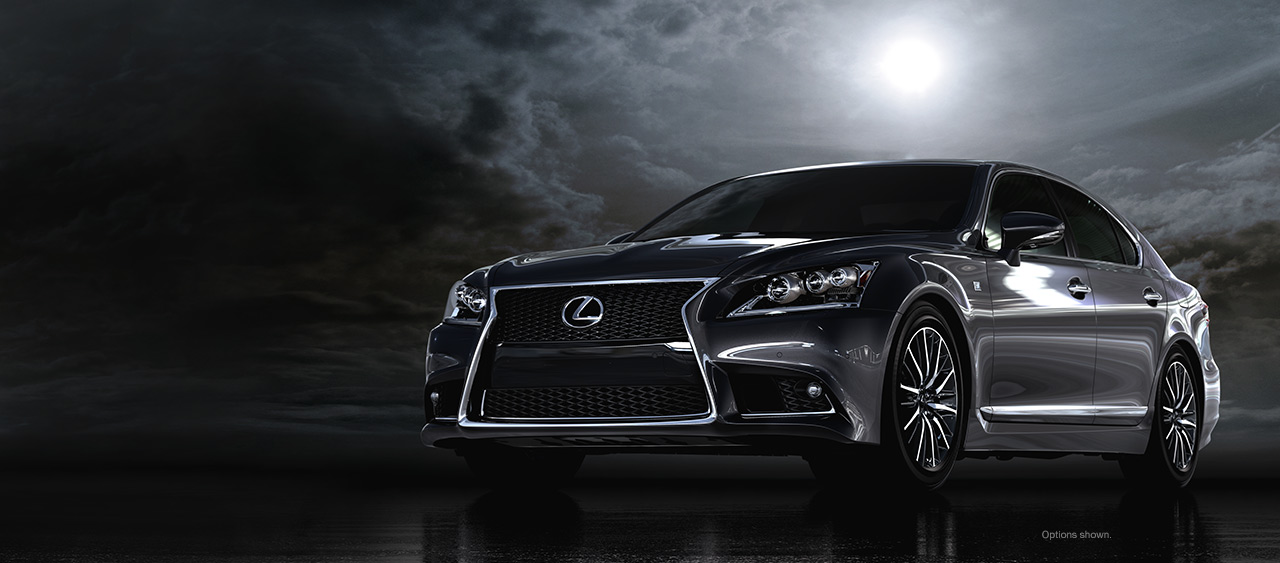 When passion runs this deep, the only choice is to follow where it leads. Inspired by the world-renowned Lexus LFA supercar, the all-new LS F SPORT is engineered to drive your hunger for exhilarating performance even further with F SPORT exclusive features.
- LIMITED-SLIP REAR DIFFERENTIAL
This system automatically and instantly distributes power to the right and left rear wheels to help improve traction and stability during cornering, without interrupting power output.
- DOWNSHIFT REV-MATCHING
In manual mode, downshift rev-matching allows for more precise shifting and quicker acceleration when you're coming out of a corner. (RWD only)
- BREMBO® BRAKES
The 19-inch forged alloy wheels[*] are paired with high- performance Brembo front brakes[*], featuring massive six-piston aluminum calipers with 14.8-inch ventilated rotors with spiral internal fins for enhanced cooling.
- LOW CENTER OF GRAVITY
The F SPORT sits 10mm lower than the other LS models, giving it a lower center of gravity which helps enhance handling-and a more aggressive look.
_____________________________
CPOWER THAT MATCHES PRESENCE
The new look of the
2013
LS makes a
d statement, and what's under the hood truly backs it up. The direct-injected 4.6-liter, 386-hp[*] V8 engine pairs with an eight-speed automatic transmission on a more agile platform to deliver an invigorating blend of acceleration, seamless shifting, control and fuel efficiency.
_____________________________
ALL-WHEEL DRIVE ON ALL MODELSE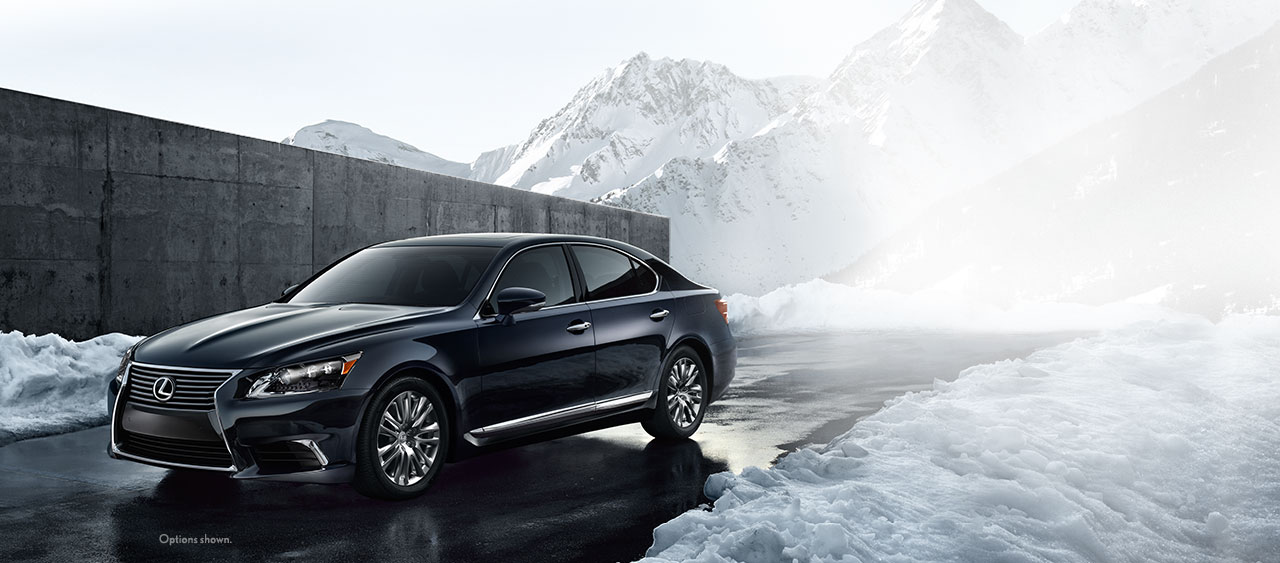 To help provide even more traction and command, all-wheel drive is available on every LS, even when you opt for the 19-inch wheels[*]. The system distributes power to the wheels with the best grip, helping to improve traction and control while delivering greater command during acceleration and cornering.
____________________________
وضعيات القيادة

NORMAL DRIVING MODE
Normal mode provides the optimal balance of fuel efficiency and engine performance.
ECO/COMFORT MODE
In ECO mode, the throttle response and engine power output are moderated for increased fuel efficiency. Other vehicle systems are also optimized for reduced power consumption. Available Comfort mode adjusts the suspension for a smoother ride.
SPORT DRIVING MODE
Sport mode alters the powertrain for higher engine output and more dynamic throttle mapping. It also adjusts the power steering for more responsiveness. For models with Adaptive Variable Suspension (AVS), Sport S mode adjusts the powertrain, and Sport S+ mode adds steering and suspension system enhancements to help provide the highest level of responsiveness.
EV MODE
EV mode[*] enables you to drive for short distances at low speeds on battery power alone. Because the gasoline engine is not engaged, no fuel is consumed, noise is minimized and emissions are eliminated. (Hybrid only)
____________________________________
تدعيم المقصورة
[A STRONGER GRIP ON HANDLING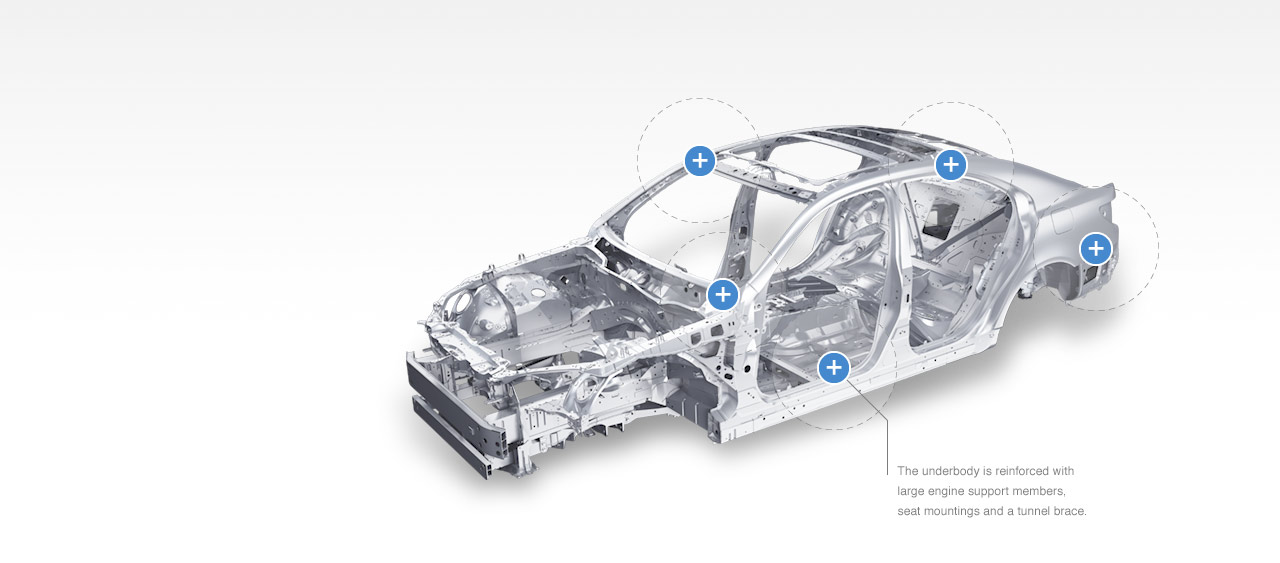 To aid with handling and to make the ride even more comfortable, the platform of the LS was strengthened in a number of ways. And aerodynamic fins were added to the body to help reduce drag and enhance stability. The result? More control and confidence on the road.
__________________________________
HIGH-PERFORMANCE HYBRID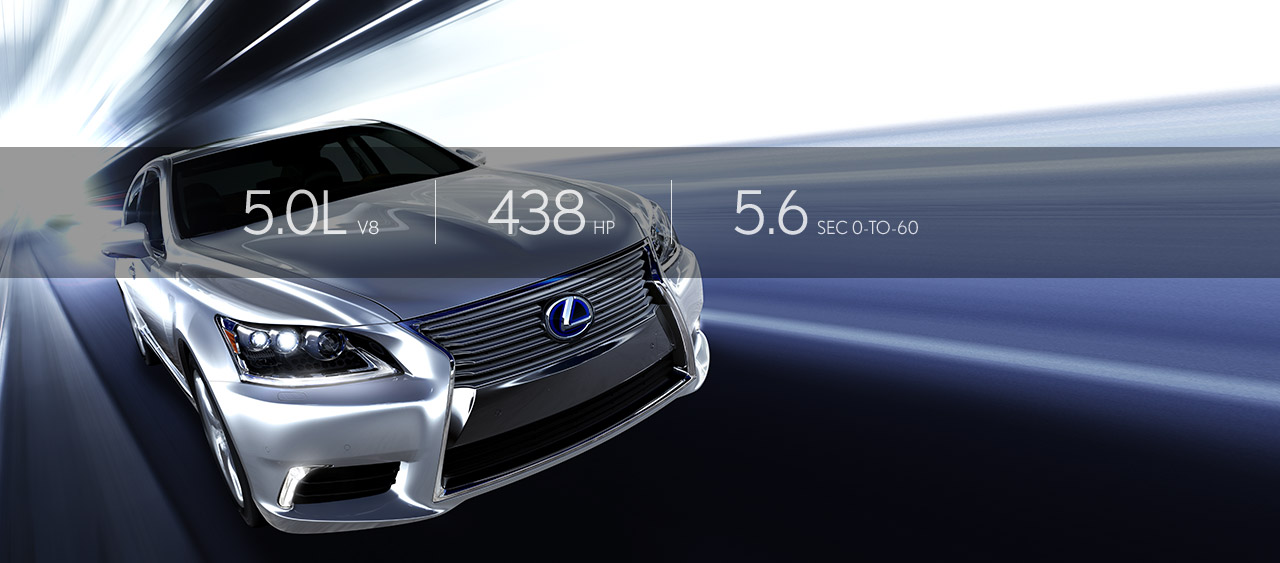 With 438 total system horsepower[*] and a 0-to-60 time of 5.6 seconds[*], it's no wonder the LS 600h L is a leader among luxury hybrids. After all, from launch it was the world's first prestige luxury and AWD V8 hybrid, and it hasn't slowed since. Plus the LS 600h L pairs a powerful 5.0-liter V8 gasoline engine with cutting-edge hybrid technology to deliver smooth, seamless power you wouldn't expect from any hybrid.
____________________________________
____________________________________
COMFORT & DESIGN
CLIMATE CONCIERGE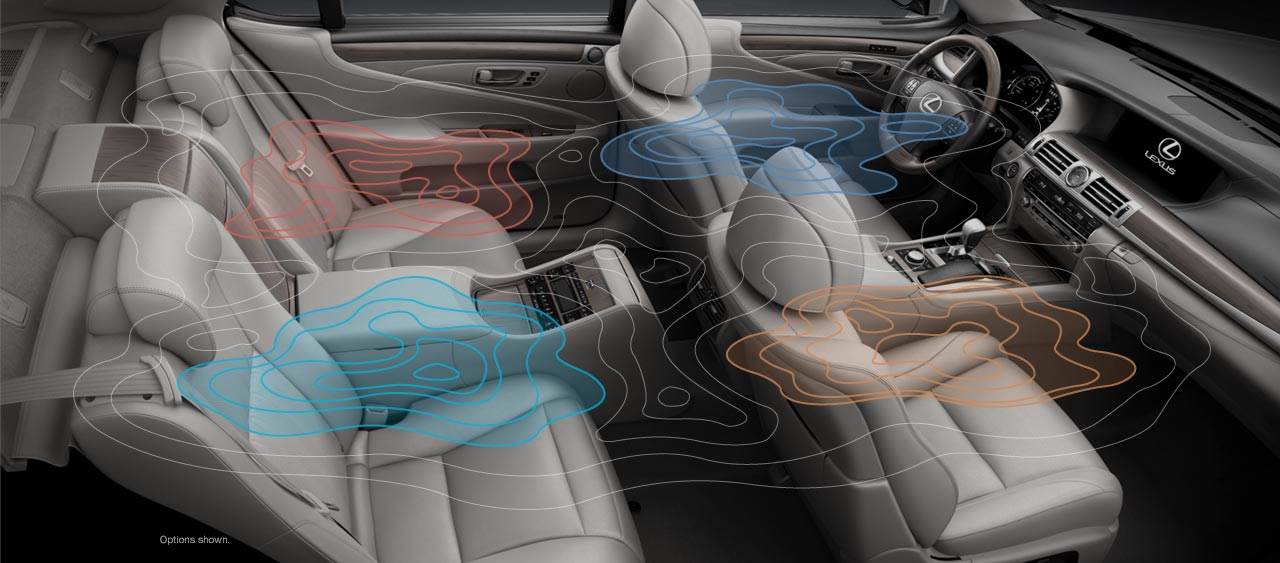 At the push of the start button, the available Climate Concierge automatically monitors the temperature of four separate climate zones and adjusts not just the fans, but also the temperature of the seats and steering wheel individually so that each zone achieves its preset level of comfort as quickly as possible.
____________________________________
DYNAMICF SPORT STYLING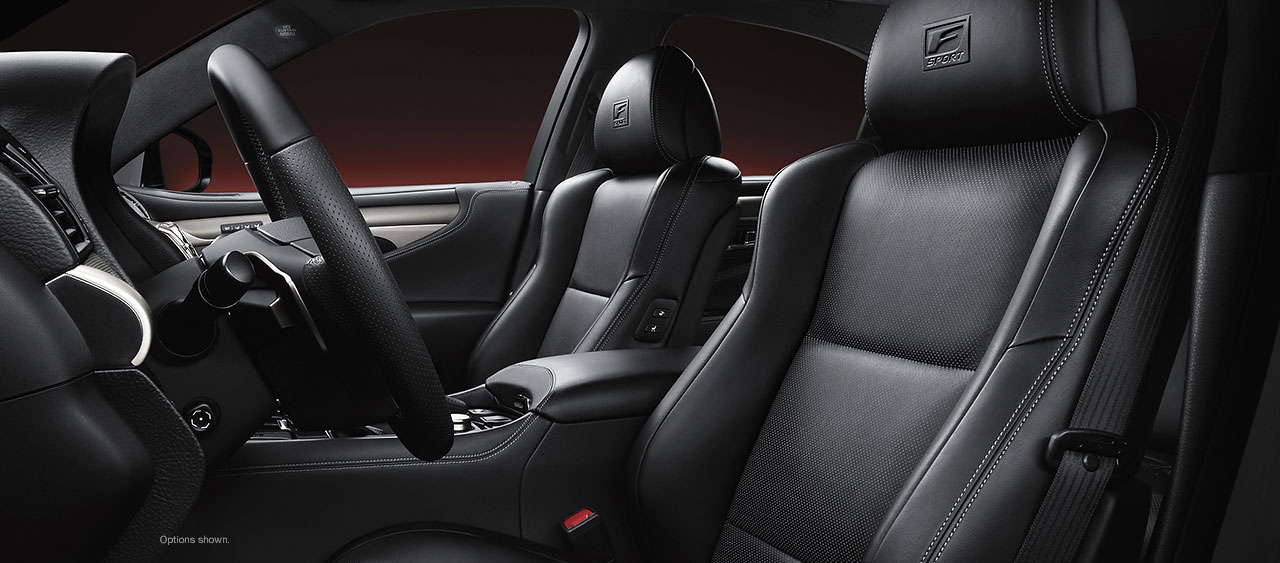 Exhilaration isn't solely delivered by what's under the hood. And on the LS F SPORT, every detail has to contribute. The
stered front seats have been exclusively enhanced, but that's just one of the many ways the F SPORT goes above and beyond to deliver an intense driving experience.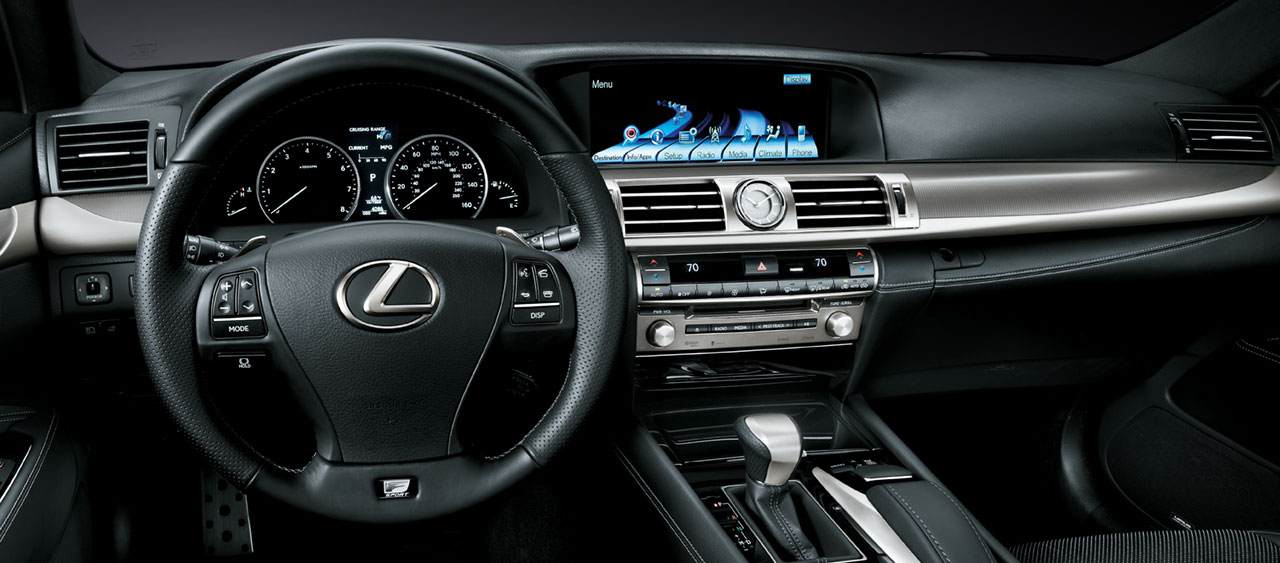 The LS F SPORT features a unique steering wheel with paddle shifters, a perforated genuine leather grip and an available heater.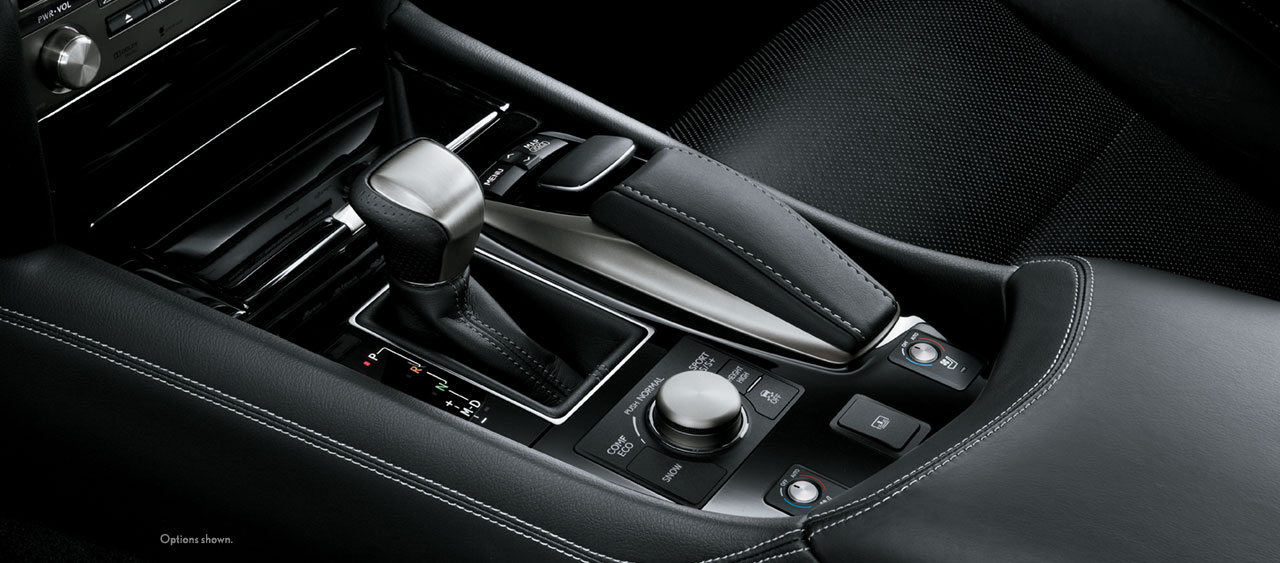 Genuine aluminum trim with a unique design enhances the LS F SPORT's aggressive nature.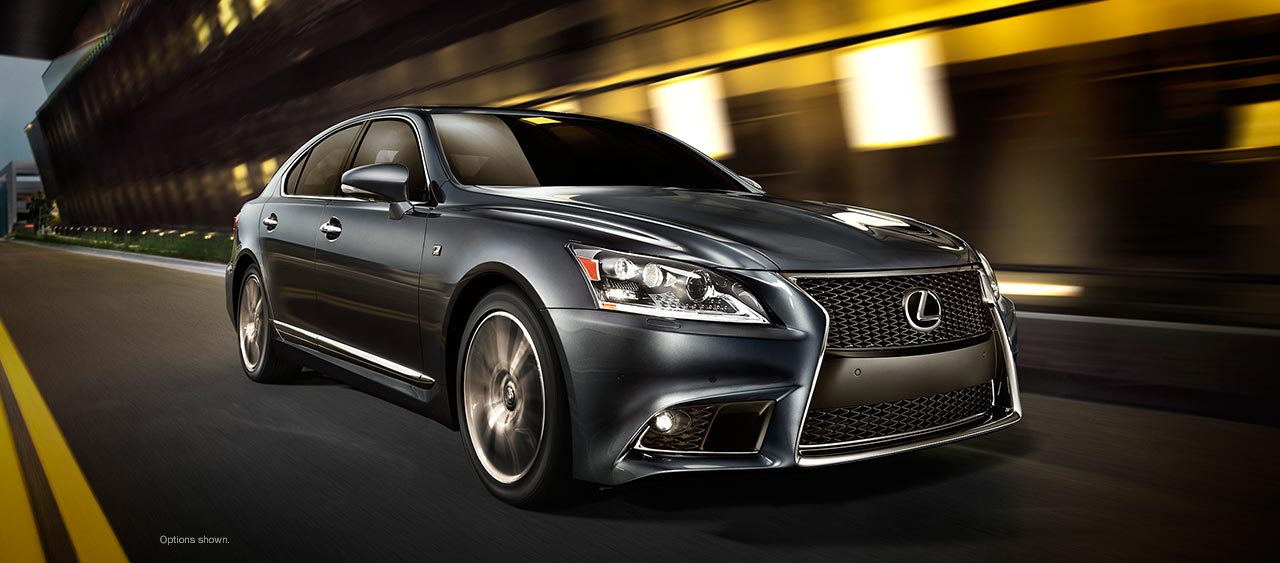 The signature spindle grille is the most obvious exterior design feature on the LS F SPORT, but also notice the exclusive LED lightweight fog lamps, front bumper, rear diffuser, forged aluminum wheels and other parts.
_________________________________
EXCLUSIVE WOOD TRIM
يستغرق تصنيع خشب لكزس الطبيعي 38 يوم !!
Unlike anything else in the world, the stunning design of the available Shimamoku espresso steering wheel and matching trim combines the organic feel of natural wood with a layered look that evokes modern art.
__________________________________
CRAFTSMANSHIP IN EVERY CORNER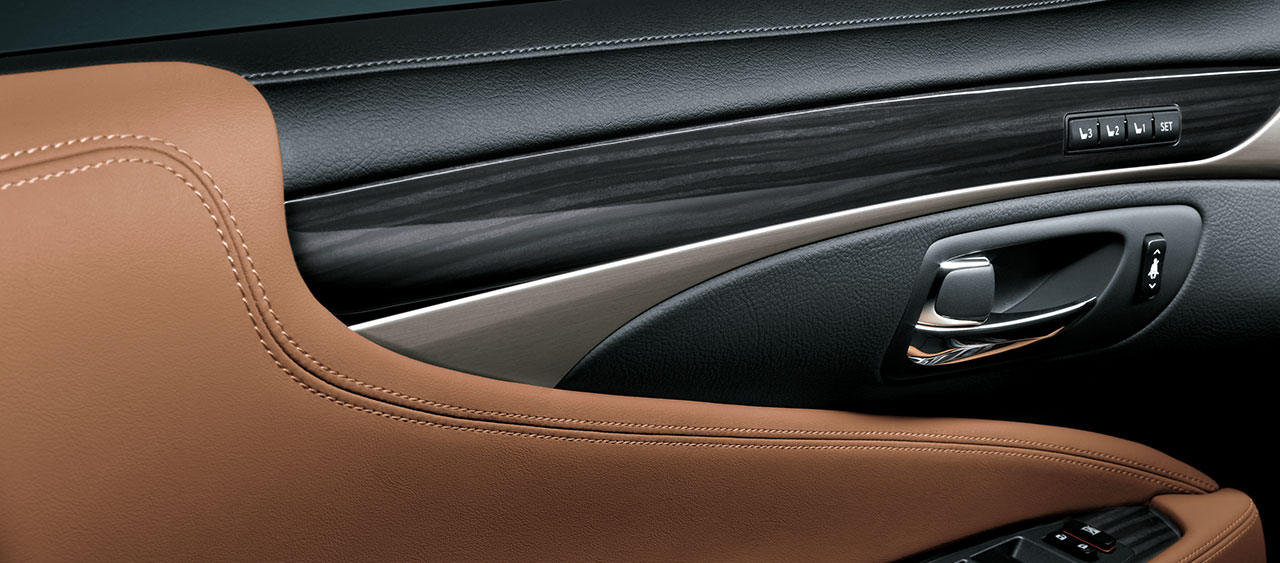 Each of the textures of the interior was thoughtfully put into place in order to bring out an authentic expression of the material. For example, the shape of the leather trim evokes the tension of leather being stretched. Likewise, the aluminum trim design is inspired by ****l being carved and polished.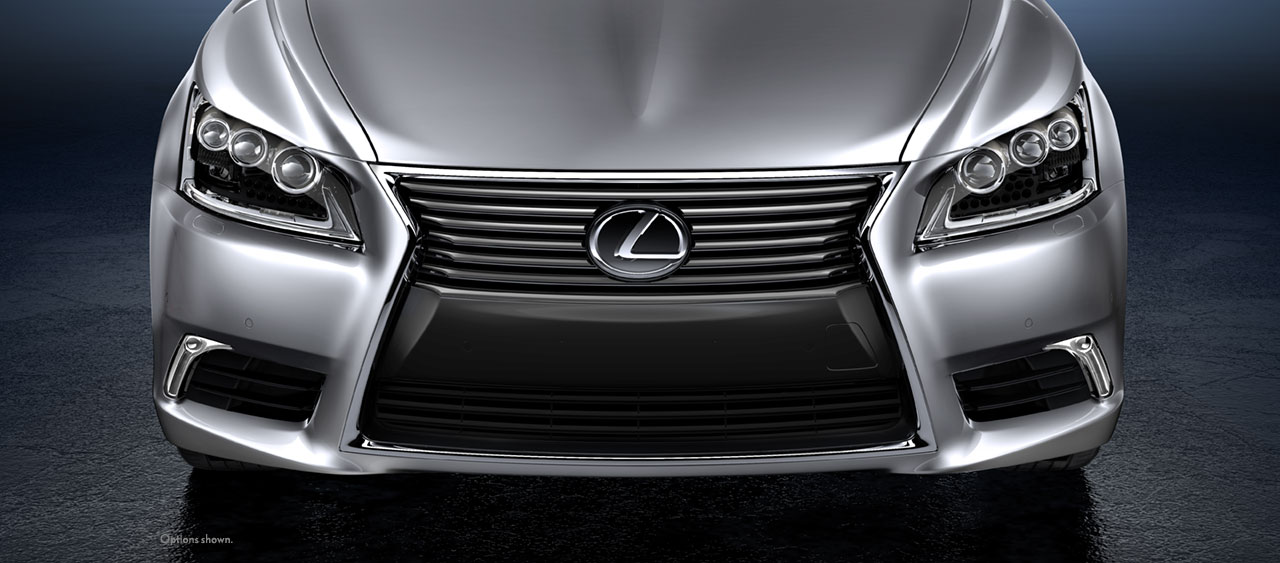 One of the new visual signatures of the Lexus brand, the spindle-shaped grille is designed to create a powerful expression of precision and dynamic movement.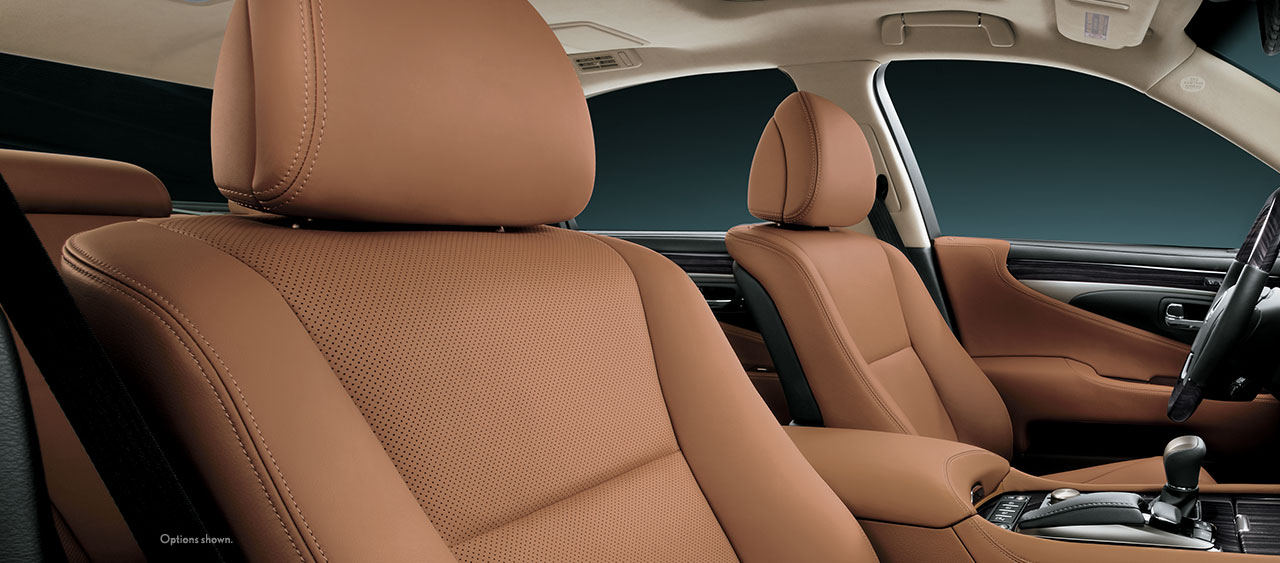 Every seat in the LS has been optimized for more comfort during long-distance journeys and for firm support during sporty driving.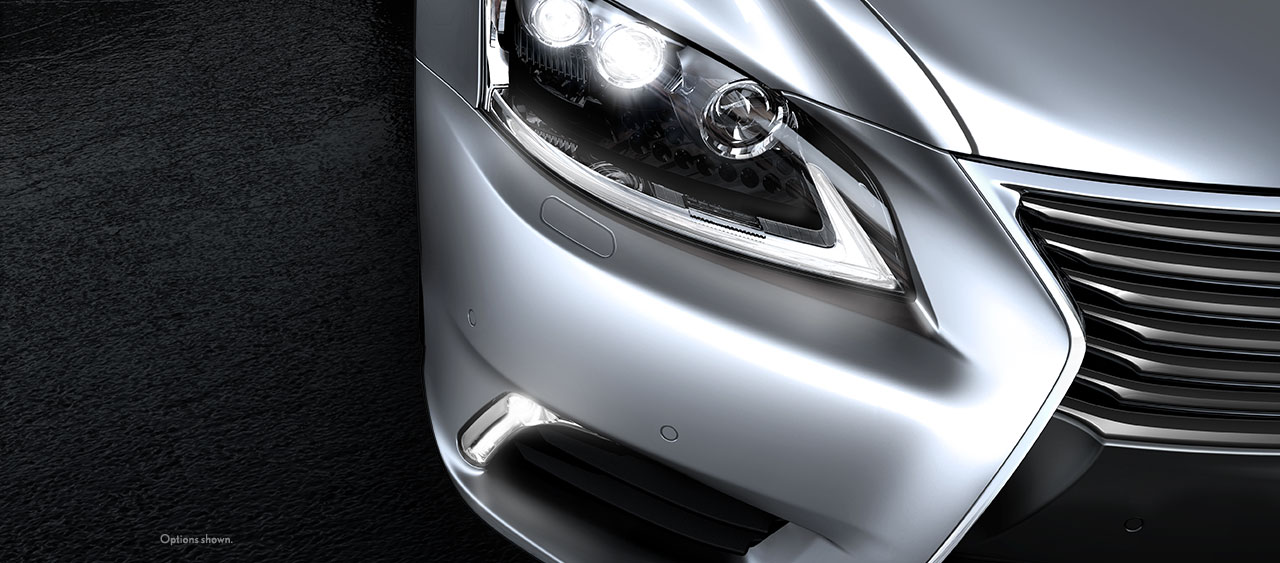 The LED foglamps feature a vertical design to create a unique illumination pattern and to align with the design of the spindle grille and the L-shaped daytime running lights.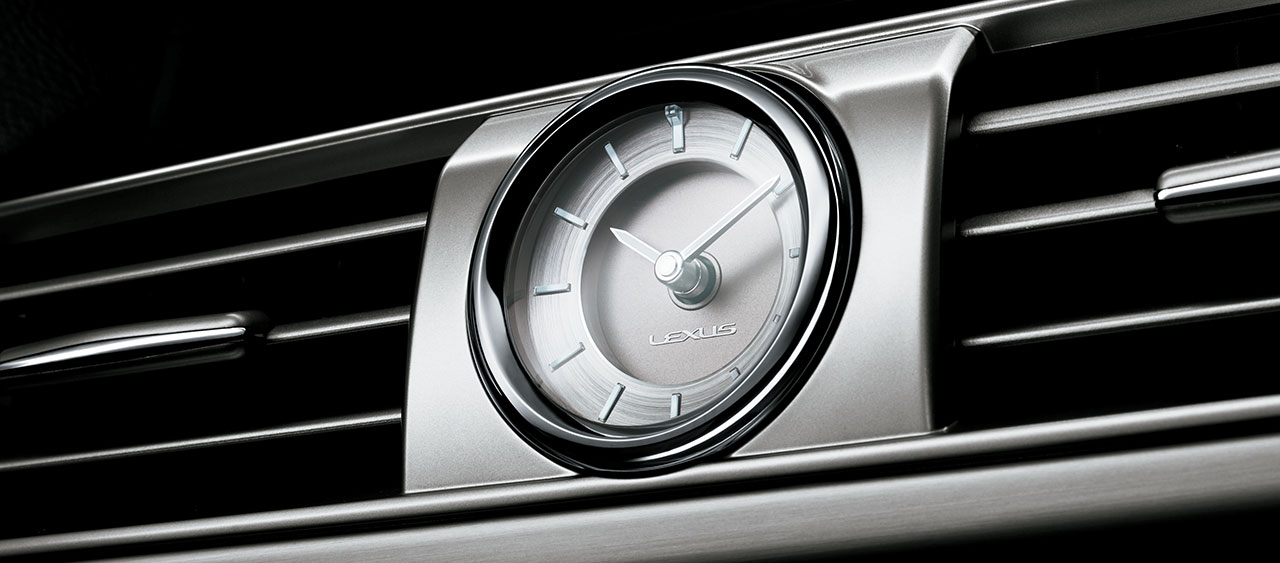 The analog clock has self-illuminating hands, and it automatically changes based on your location. It is mounted in two types of genuine aluminum to create an elegant, contrasting look.
_____________________________
BEYOND ILLUMINATING.
WELCOMING.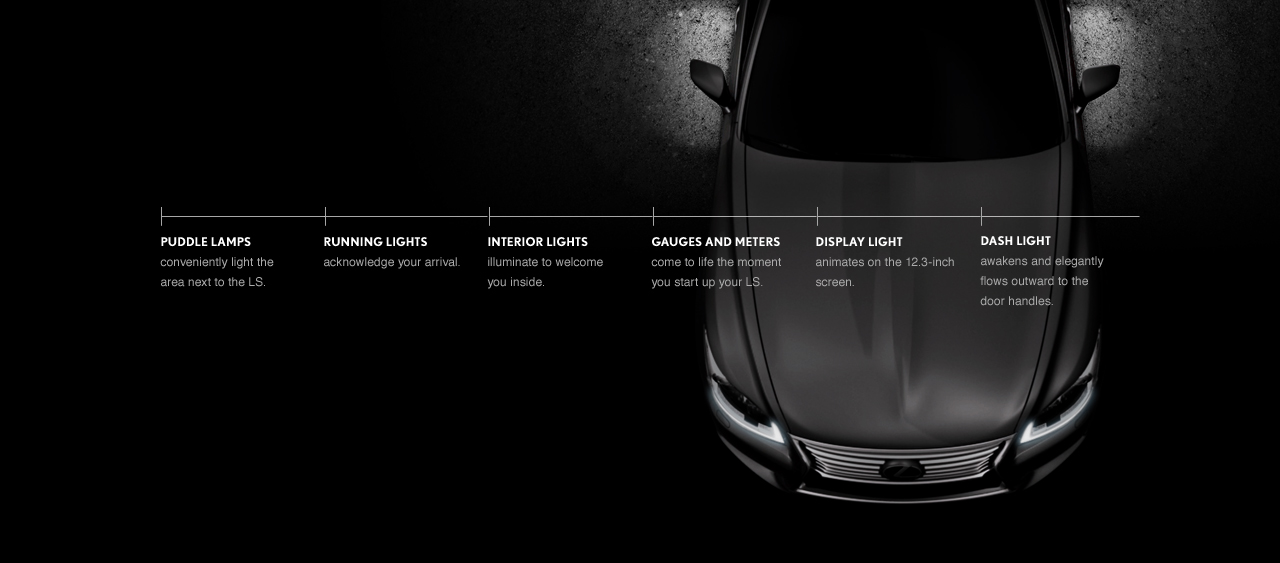 _______________________________
STYLISH AND SUSTAINABLE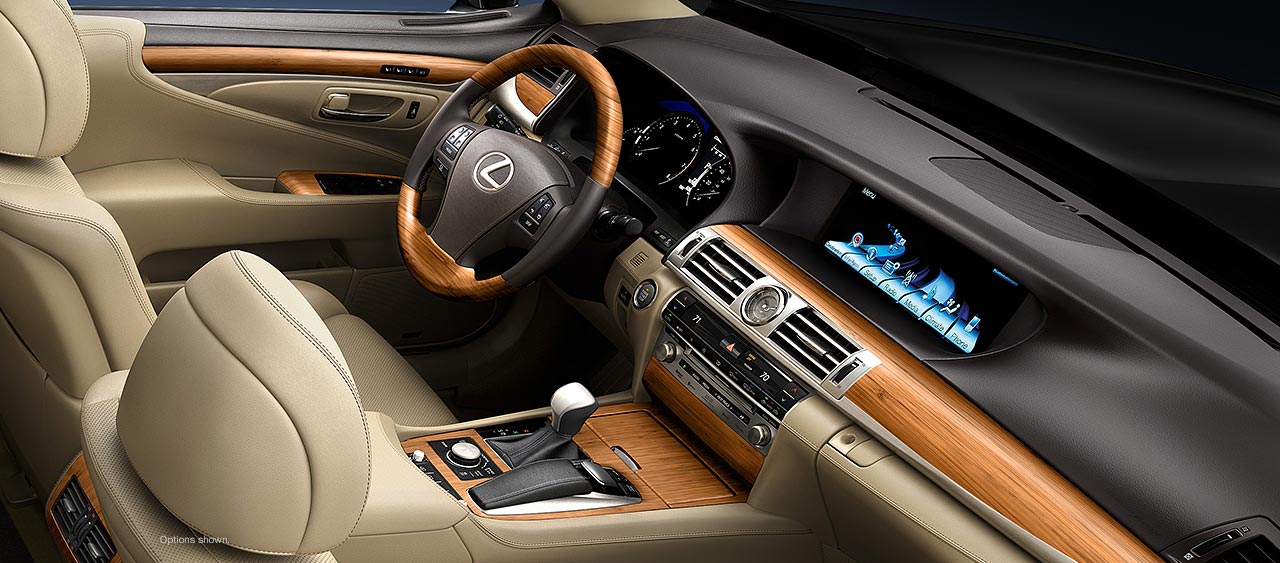 Sustainable bamboo in the new interior trim available in the LS Hybrid has been handpicked for the perfect age and color, resulting in a stimulating contrast in the interior design.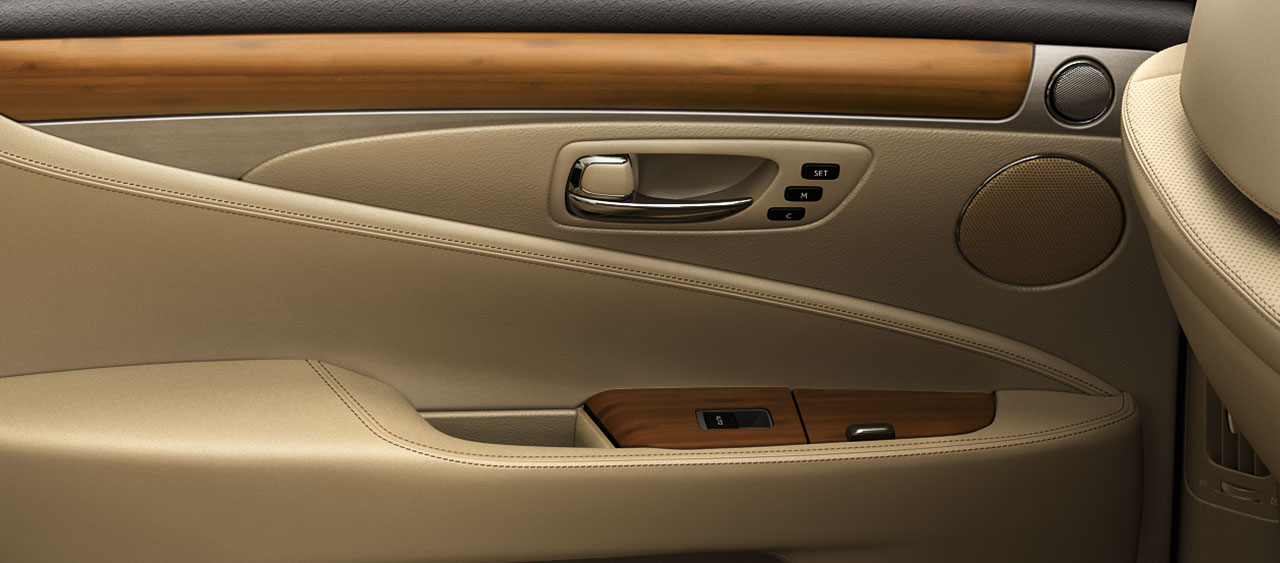 Only highly experienced artisans are qualified to perform the final shaping and polishing by hand.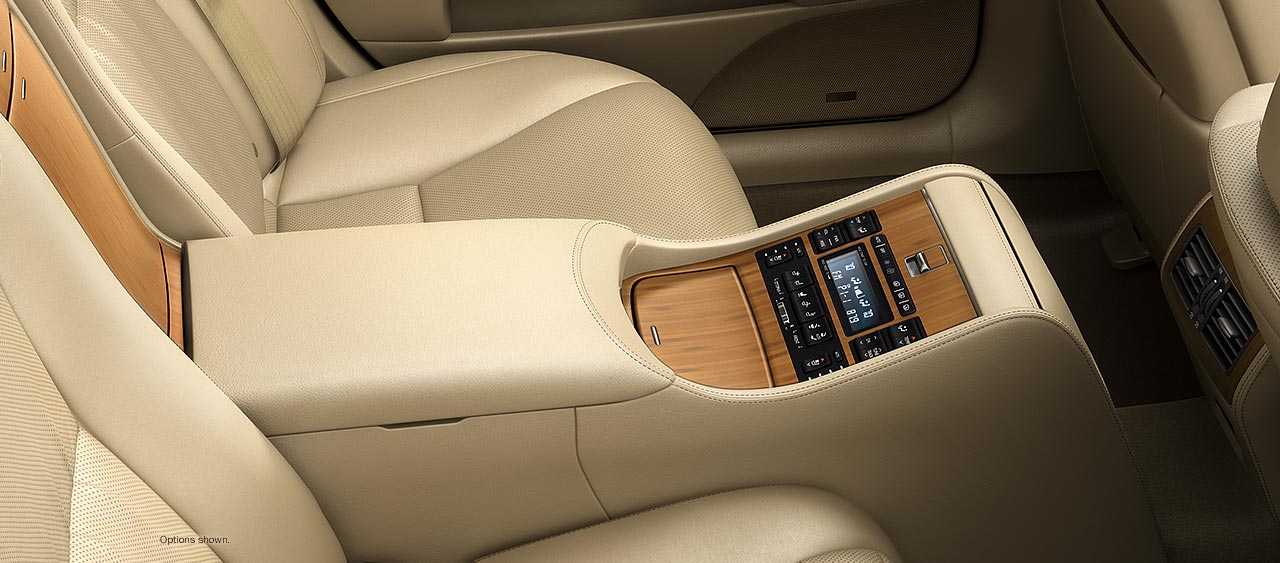 Because it grows more than 10 times faster than conventional wood, bamboo was the sustainable choice for the new trim.
__________________________
EXECUTIVE-CLASS SEATING PACKAGE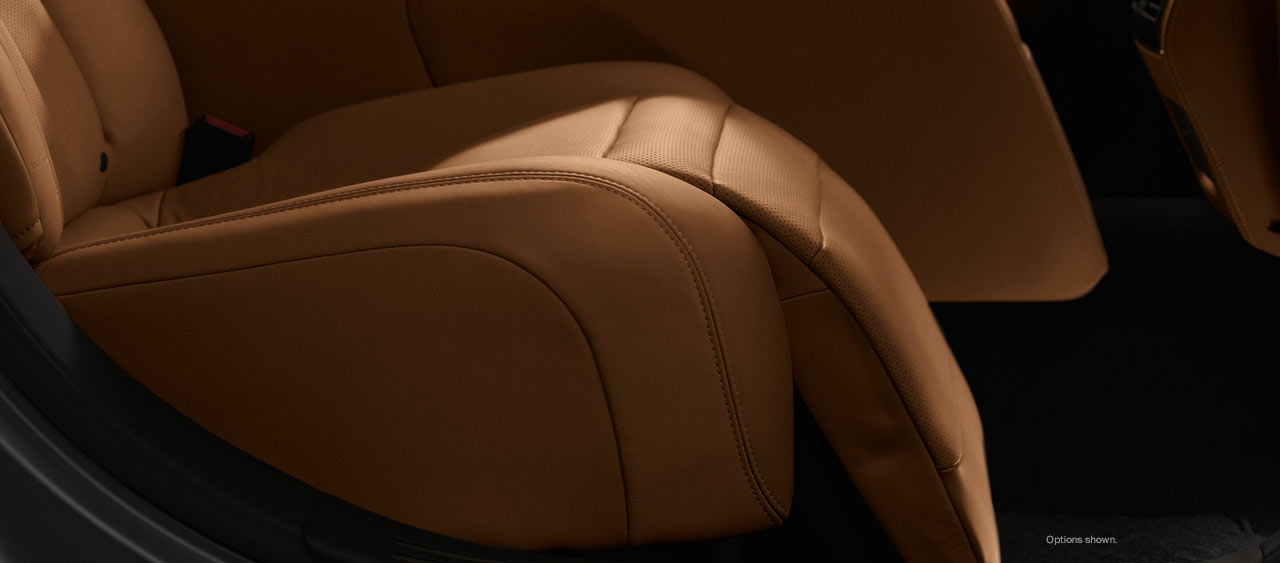 To help you make the most of the long wheelbase on the LS 460 L and LS 600h L, this available package replaces the rear bench with two individual seats. The right-rear seat has power-reclining capability, a built-in ottoman-style leg rest[*] and an indulgent shiatsu massager.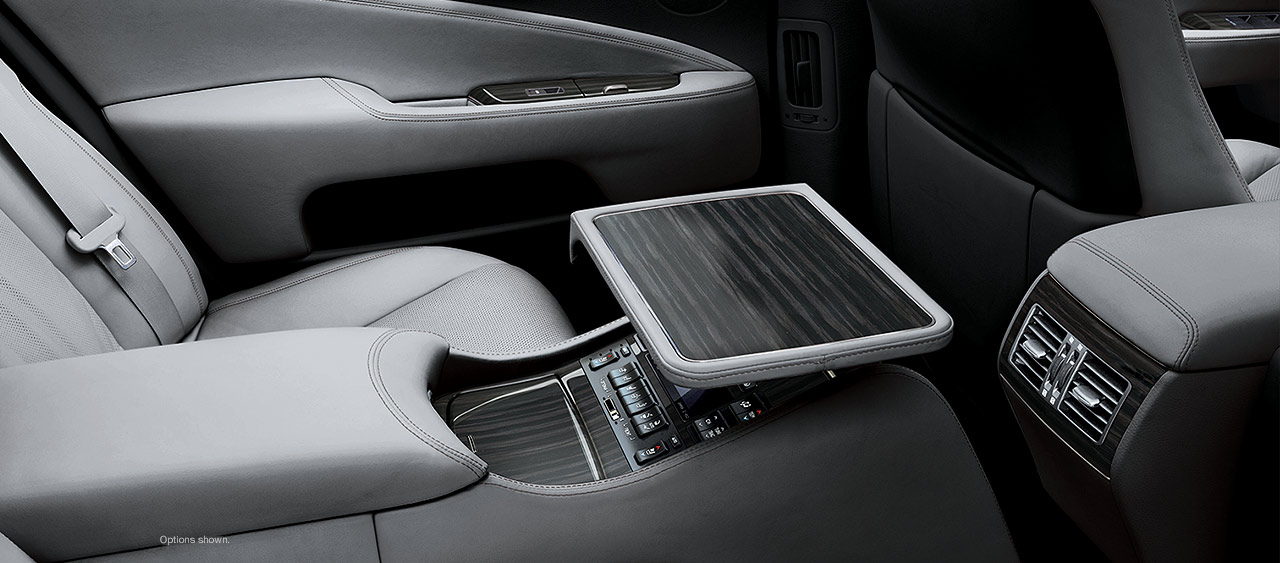 A retractable wood-trimmed console table swivels into place at your convenience.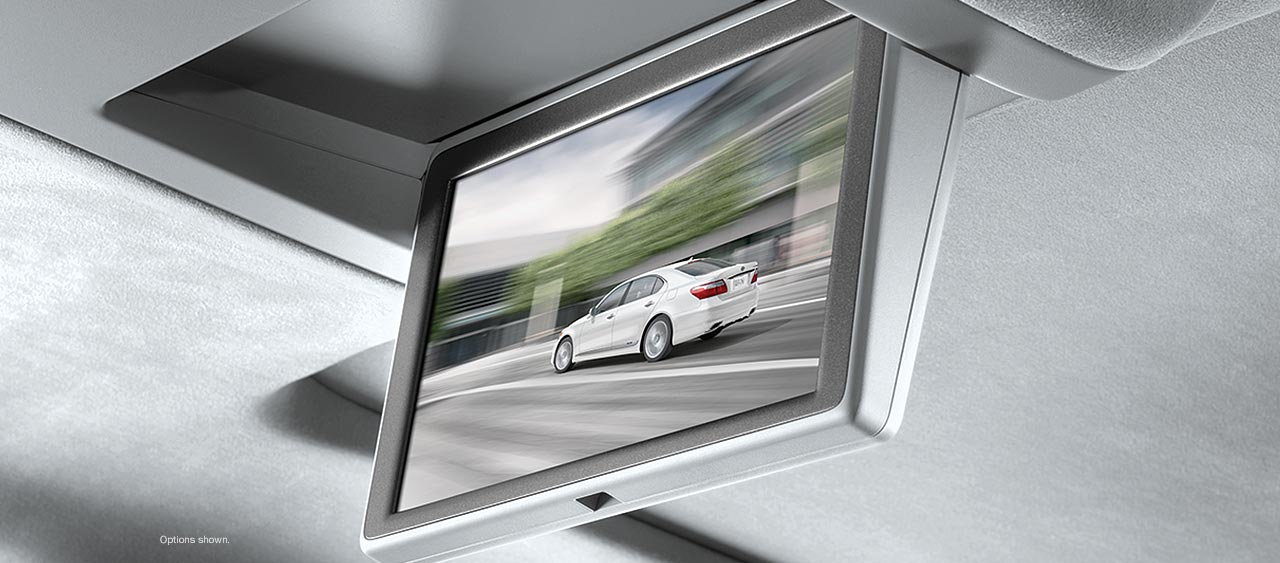 The Rear-Seat Entertainment System (RSES) includes a Blu-ray/DVD player and a center-mounted 9-inch high-resolution screen with auxiliary A/V inputs and wireless headphones.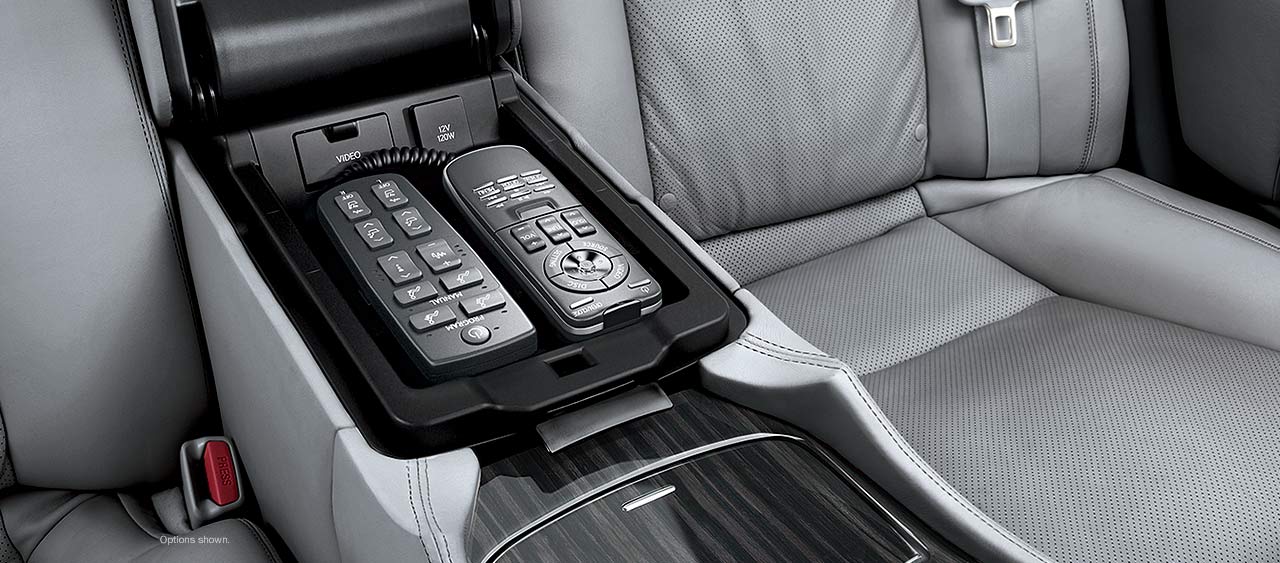 Command is at your fingertips, including power-adjustable seats with memory, as well as climate and audio controls.
____________________________
تقنية جديدة لتقليل الضجيج
A BOLD STATEMENT CUTS THROUGH THE NOISE

The new LS is the first Lexus to feature noise-reduction wheels, which force resonant noise into an opening where the sympathetic vibrations cancel each other out and significantly reduce road noise.
____________________________
____________________________
IN-VEHICLE TECHNOLOGY
LEXUS ENFORM® WITH APP SUITE
Available Lexus Enform[*] and Safety Connect®[*] offer more than the convenience of live, 24-hour navigation assistance and the peace of mind of knowing emergency services can be requested at the press of a button. With the new App Suite[*], you can use your LS to make dinner reservations and order movie tickets on the fly.[*]
___________________________
THE PINNACLE OF PURE AUDIO EXCELLENCE

Engineers and technicians spent over 2,000 hours tuning the available 19-speaker, 450-watt Mark Levinson® Premium Surround Sound Audio System[*] so that the sound quality in the LS would rival the finest concert halls. And to audiophiles around the world, it will come as no surprise that the name on the system is Mark Levinson[*], whose dedication to quality extends even to the smallest screw in an amplifier.
________________________
XM NAVIGATION SERVICES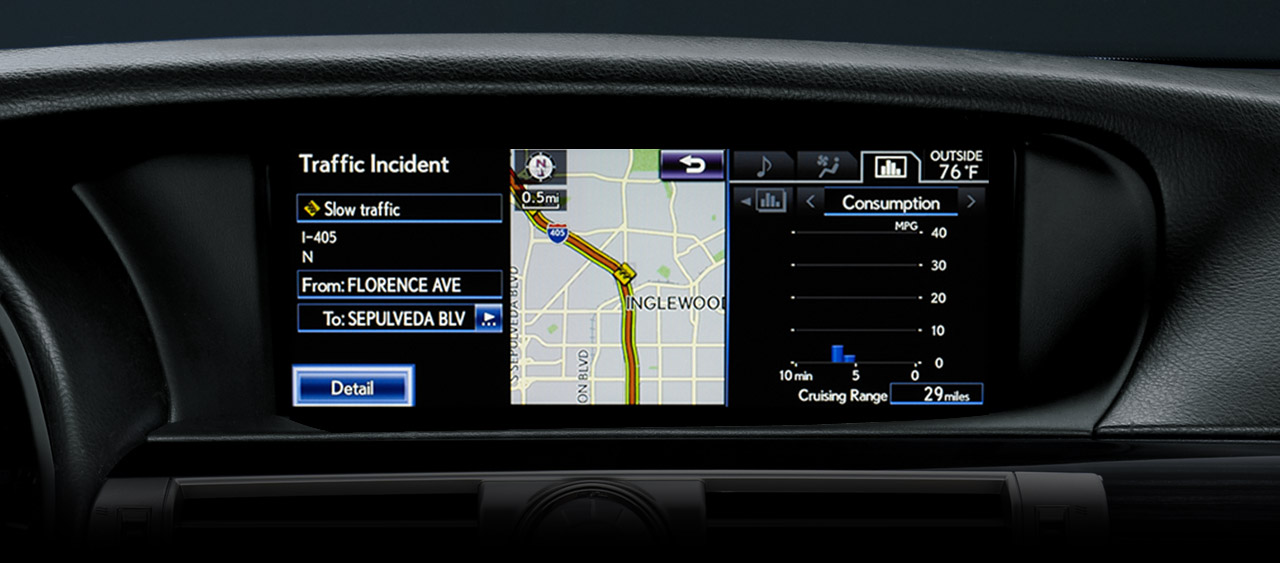 TRAFFIC XM Data Services[*] include available NavTraffic™[*], which provides real-time traffic information, including speed, estimated travel time and rerouting suggestions so you can avoid congestion. Other available services let you receive real-time local weather reports and fuel prices, plus you can follow your favorite sports teams and investments.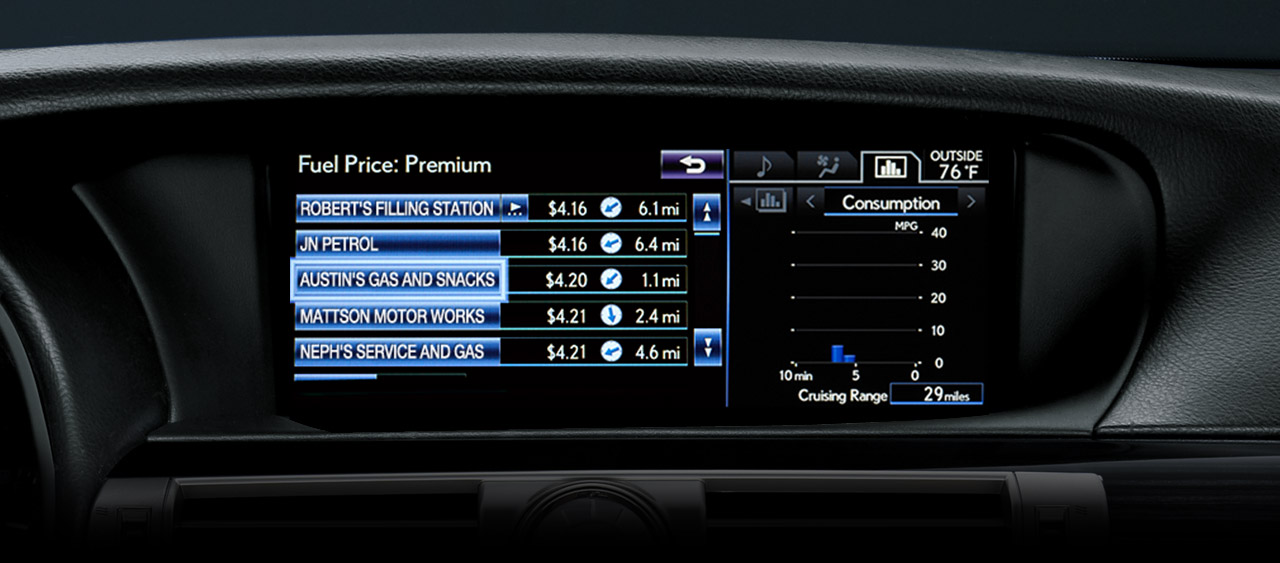 FUEL With available Fuel Prices, you can search for stations by price, brand, distance or grade. And, once you make a selection, it can display the destination on your navigation screen.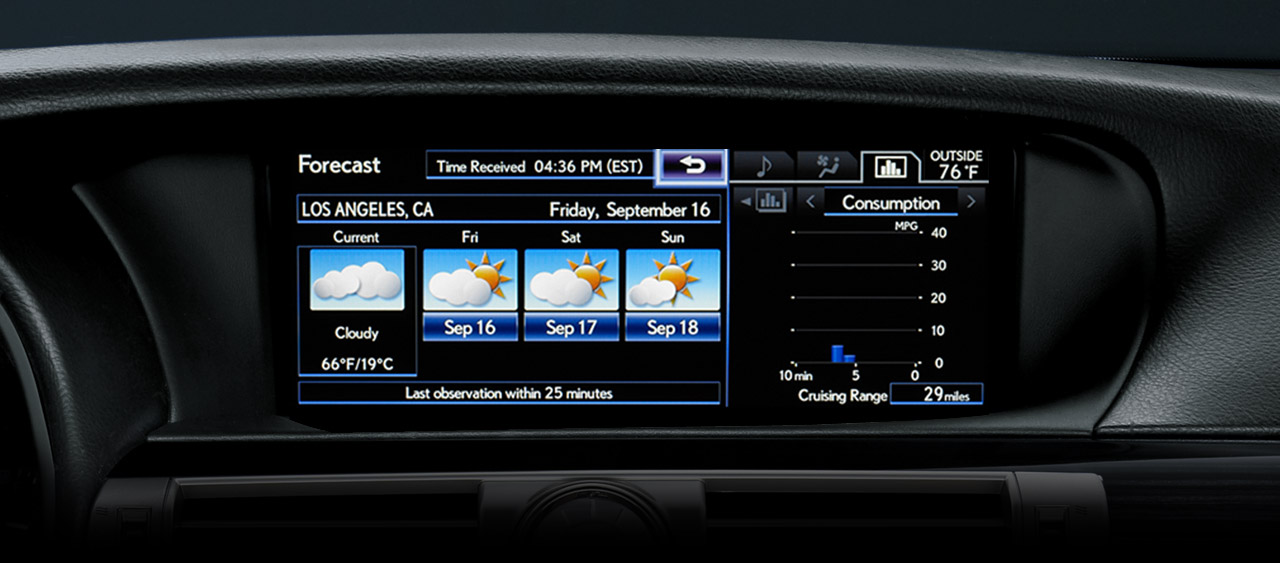 WEATHER Available NavWeather™[*] provides continuously updated local weather reports, five-day forecasts for specific cities and can even automatically ***** you of severe weather ahead.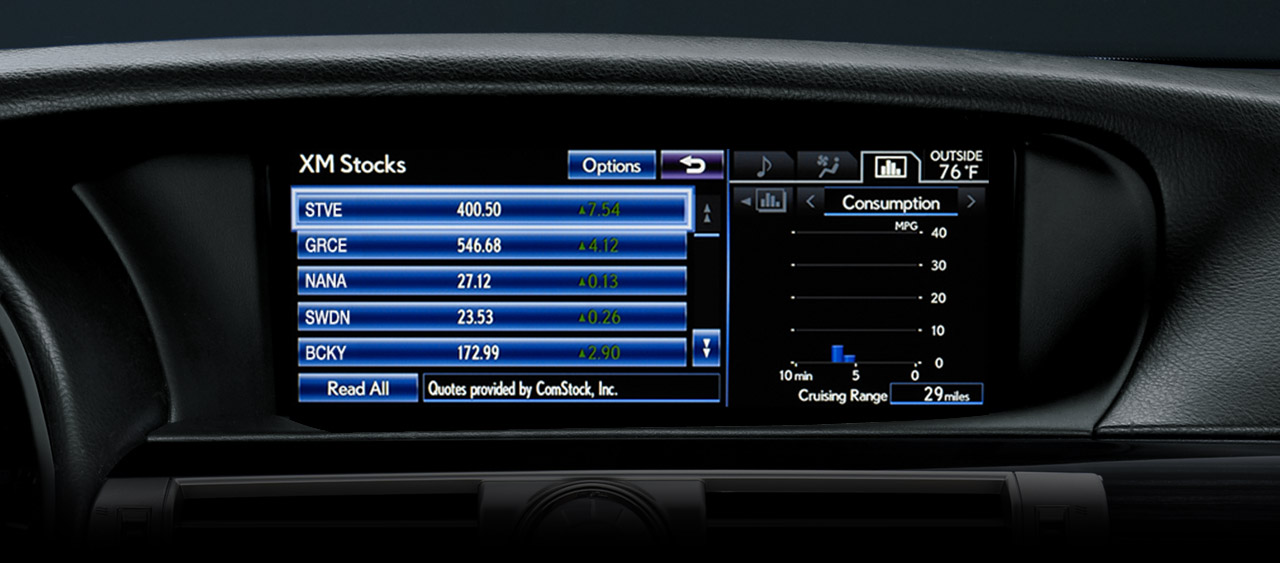 SPORTS AND STOCKS Available Sports and Stocks[*] offers access to the schedules, scores and news of your favorite sports teams, as well as personalized stock quotes and related information.
____________________________
TECHNOLOGY THAT LOOKS OUT FOR YOU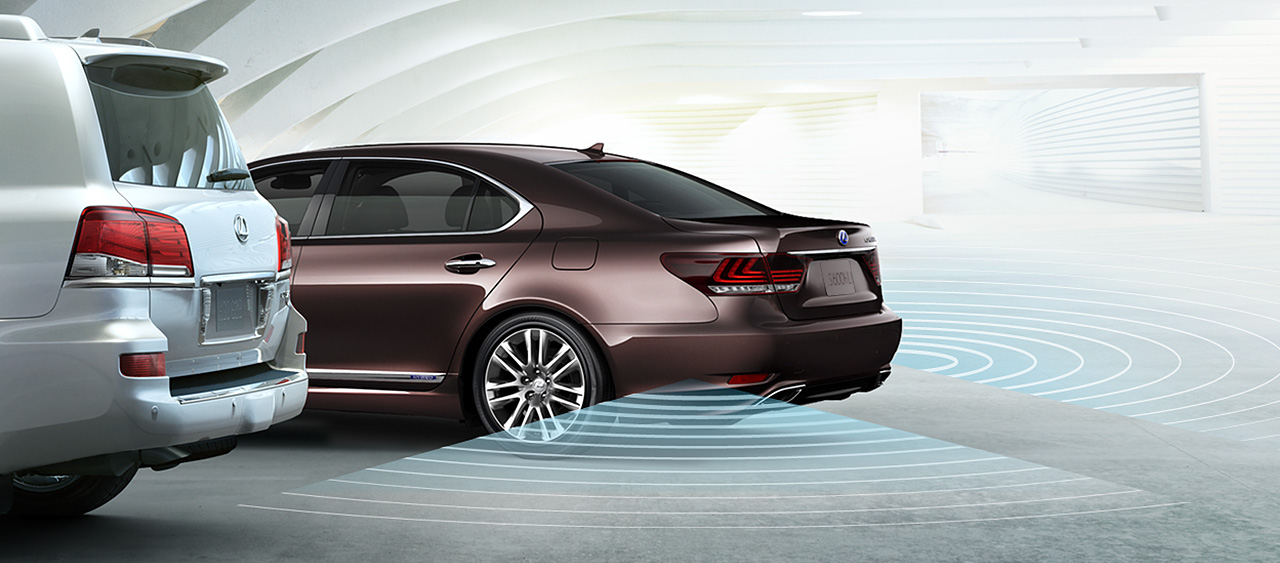 REAR CROSS-TRAFFIC ***** When you're backing out of a parking spot, the available Rear Cross-Traffic *****[*] is designed to notify you of approaching vehicles that might be out of camera view. It will sound a buzzer and display warning lights in the side mirrors if a vehicle is detected.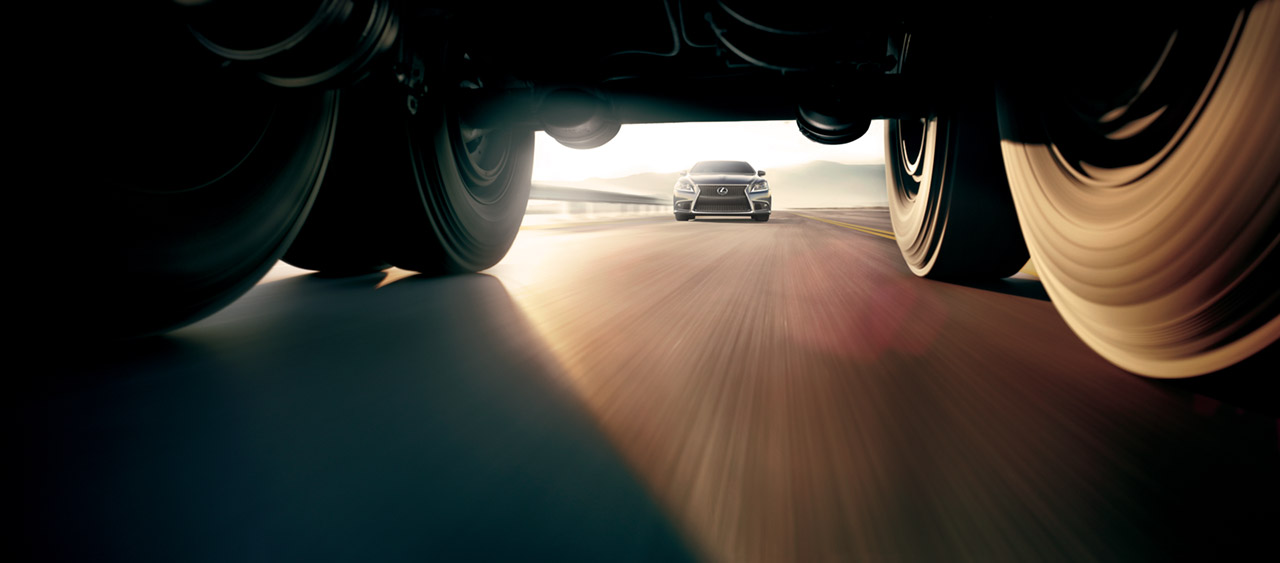 DYNAMIC RADAR CRUISE CONTROL To help you maintain a preset following distance from the vehicle ahead, available Dynamic Radar Cruise Control uses radar technology to sense the speed of any vehicles in front of you. If the LS gets too close to the vehicle ahead, the throttle is automatically reduced and, if necessary, the brakes are applied. As soon as the road ahead clears, the LS returns to its preset speed.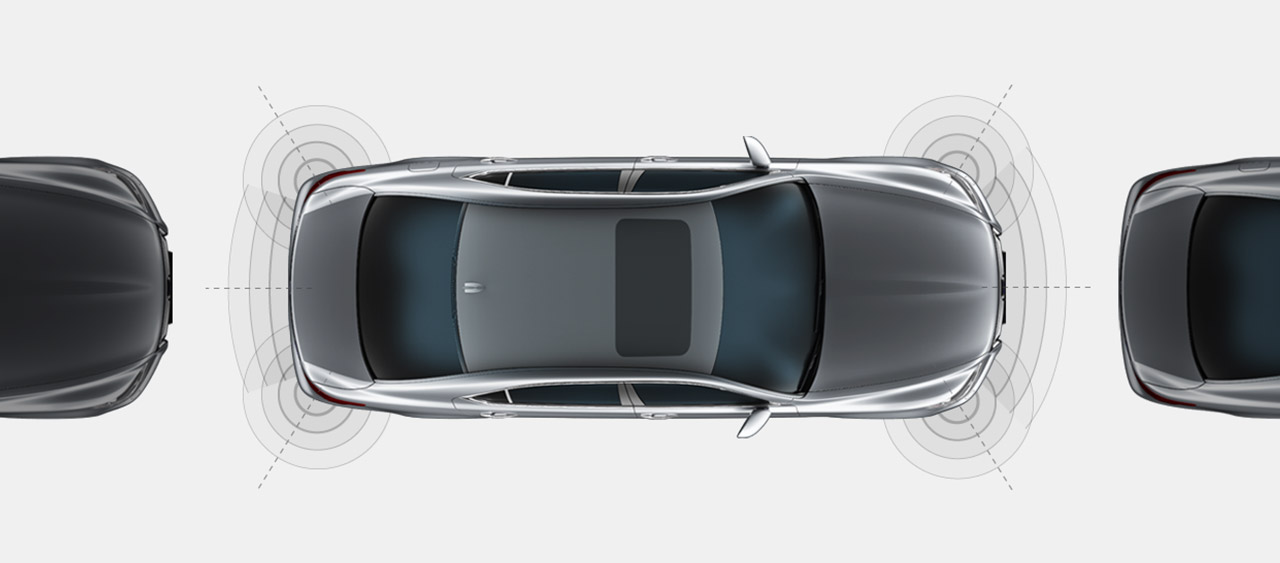 INTUITIVE PARKING ASSIST This system is designed to detect surrounding objects and notify you of its location and proximity using audible tones and an indicator on the multimedia display. And for added convenience, the backup camera screen and Parking Assist Monitor can be viewed simultaneously on the multimedia display.
_____________________________
INNOVATIVE AUDIO
SIRIUSXM
SiriusXM Satellite Radio[*] offers more than 170 channels of commercial-free music, world-class news, exclusive entertainment and talk, and more than 5,000 sporting events per year. Best of all, you'll enjoy the same digital channels wherever you drive, coast to coast.
GRACENOTE®
Gracenote lets you use voice commands to search your music collection by artist (including nicknames), album, genre or the year a song was released. You can also use it to search for similar styles and create mixes on the fly.
HD RADIO WITH ITUNES® TAGGING
With HD Radio[*], you'll experience CD-quality sound on FM stations and improved, crystal-clear reception on AM stations. Like the song that's playing but don't know the artist or name? You can easily tag songs for consideration the next time you connect to iTunes[*].
____________________________
____________________________ </p>
<span id="twitter_btn" style="margin-left: 6px; ">
المواضيع المتشابهه: